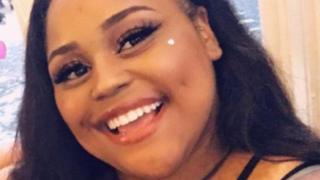 A teenage girl told her mother "I'm going to die" as she succumbed to a suspected allergic reaction, an inquest into her death heard.
Shante Turay-Thomas, 18, died in September 2018 after eating food thought to have contained hazelnuts at her home in Wood Green, north London.
An ambulance took over an hour to arrive and her adrenaline pen failed, St Pancras Coroner's Court heard.
"Shante's death has left a hole in our family," her mother said.
Emma Turay, 46, described how her daughter quickly "fell unconscious" and "her lips turned blue and she started to have a seizure" on the night of 14 September.
'My chest hurts'
The inquest heard how Ms Turay spent several minutes on the phone to the NHS's non-emergency 111 service.
A transcript of the phone call was read to coroner Mary Hassell.
Ms Turay-Thomas could be heard in the background telling her mother: "My chest hurts, my throat is closing and I feel like I'm going to pass out."
The student then asked her mother to check how long the ambulance would be, before adding: "I'm going to die."
Ms Turay-Thomas's condition deteriorated after her Emerade adrenaline auto-injector pen (AAI) did not work despite her trying twice, the inquest heard.
An ambulance was sent to a wrong address six miles away and it took almost an hour for another to arrive, having initially been assigned a category three response – which has a two-hour response time.
The teenager was eventually taken to hospital but died within hours.
Ms Turay said she was so traumatised by her daughter's death she has been unable to return to the family home.
The inquest is expected to last for three days.
Mike Brown says it was "heartbreaking" to miss out on England's Rugby World Cup squad and believes he is still the country's best full-back.
The 34-year-old, who won the last of his 72 caps in 2018, was involved in pre-World Cup training camps but was not named in Eddie Jones' 31-man squad.
"I tried to put everything I had on the training field, but it wasn't enough in the end," he told BBC Radio 5 Live.
"That's the nature of team sport and selection – it's one man's opinion."
Brown last played for England last summer but believes he remains capable of performing at the highest level.
"I feel like I'm the best English full-back, and I think I showed that last season," he said.
"I still think my game is changing and evolving all the time, and my body still feels good.
"All I can do is show on the field the player I am and the character I am. That's what I did last year [for Harlequins], so I will just keep going."
'Brown will stick to team ethos'
Brown was also involved in an off-the-field altercation with centre Ben Te'o during a team social on a training camp in Treviso, but is reluctant to go into details out of respect for the rest of the squad.
Both Brown and Te'o were dropped from the squad shortly after, although head coach Jones has yet to explain whether the incident had any bearing on their axing.
"I don't feel comfortable going into details when the guys over there are preparing for a massive tournament," Brown explained.
"People who are close to me – my friends and family, the ones who really matter – know what happened and that's the most important thing for me.
"There will be a time when I will speak about what happened. But at the moment I have always tried to stick to the team ethos.
"It's not for me to take attention away [from England's World Cup preparations] and speak about other things that went on."
'Playing for England is amazing'
Having just turned 34, Brown is unlikely to play for England again, but reflects fondly on the emotional highs and lows of an international career.
"It is amazing. For any rugby player it is the best job in the world," he said.
"We get paid incredibly well and we get to experience such amazing things doing this job.
"But what comes with that is the scrutiny and the heartache of working so hard and not getting selected for something. But that's the nature of it."
Brown also says he has no regrets about anything that went on in the training camps, insisting he did all he could to gain selection for the showpiece in Japan.
"I went into pre-season camps in the best shape I have ever been in, and trained every second of every minute. So I have no regrets at all about the past year," he added.
"On the plus side it has given me some amazing memories and quality time with my family, getting to spend more time with my son and my wife, which I haven't been able to do over the last eight years.
"You have to look at those positives. I have also become a lot closer with my Quins team-mates, which is hard to do when you are playing for England.
"I would love to have been involved with England, but I got to go on the [pre-season bonding] trip to Ibiza with the Quins guys, and be part of an environment that has grown really strong."
commercial pest control services